Voice Solutions has been providing computer accessibility solutions for people with low vision, blindness, physical challenges and learning disabilities for over 15 years. Our turn-key solutions give you a One-Stop-Shop for all hardware, software, training and support.

Our Mission is to provide the most up to date products and services at an affordable price, while building trust for a long term relationship. Whether your hurdles lie in education or the workforce, we can help you gain independence through technology and actualize your goals. Go to DOR page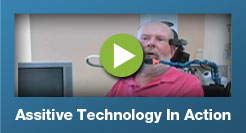 Accessibility
Voice recognition software and hardware provides new ways for you to gain access to computers to perform basic and complex tasks whether for school or work. Dragon NaturallySpeaking is becoming an increasingly cost-effective accessibility tool for a wider range of people.
Speech recognition tools can generate a new excitement for writing and learning for students and workers who were previously unable to write or produce written work due to problems with physical challenges, learning disabilities or low vision/blindness.
Each edition of Dragon NaturallySpeaking contains a unique set of features to meet the specific needs of different users. Review the feature matrix below to determine which edition of Dragon is best for you.
Learning
Adaptive software allows those with dyslexia, dyscalculia, dysgraphia, aphasia and other literacy concerns to work on a computer with more ease and accuracy.
Innovative literacy software, such as WYNN and Kurzweil, are designed to enhance success for individuals with reading challenges and writing difficulties. These software programs were developed with the help of special educators and individuals with learning difficulties.
By using a bi-modal approach, simultaneous highlighting of the text as it is spoken, transforms printed text into understandable information that benefits readers of all ages including English Language Learners (ELL), struggling readers and children with ADD (attention deficit disorder) or ADHD (attention deficit hyperactive disorder).
Vision
Screen magnifiers, screen readers, reading machines, CCTV's and dictation software can be the key for Low Vision and Blind clients to gain access to computers and printed information to further their goals.
With programs such as JAWS, Zoomtext and Kurzweil 1000 one can navigate the entire computer by voice, magnify the screen for better vision and make printed or electronic text accessible.
Why Voice Solutions

Our Goal
To become a trusted partner with our clients and provide support before, during, and after each purchase to ensure continued success.
» Our Experience
Voice Solutions, Inc. has been an industry leader for over 15 years providing adaptive products and services to the medical, legal, professional, disabled, ergonomic and educational communities.
» Our Knowledge
We work closely with our clients to develop effective solutions that best fit their needs, and deliver competitive pricing. We believe every individual's specific needs require our special attention.
Contact us to learn how Voice Solutions help you gain a competitive edge.
More Information
Installation & Setup
Computer Repair
Dragon NaturallySpeaking Data Sheets
Literacy Software Data Sheets
Vision Software Data Sheets