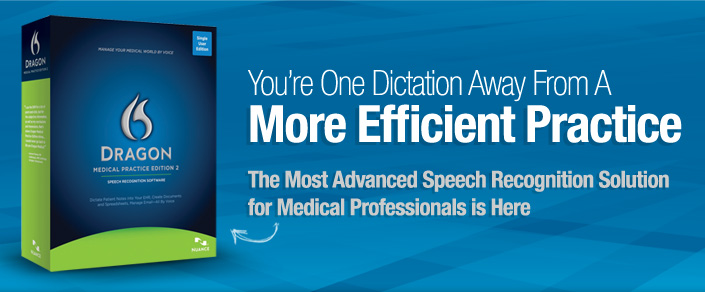 Voice Solutions has been providing computer accessibility solutions for people with low vision, blindness, physical challenges and learning disabilities for over 15 years. Our turn-key solutions give you a One-Stop-Shop for all hardware, software, training and support. Our Mission is to provide the most up to date products and services at an affordable price, while building trust for a long term relationship. Whether your hurdles lie in education or the workforce, we can help you gain independence through technology and actualize your goals. Go to DOR page
Dragon® Medical Practice Edition 2
Push your keyboard and mouse aside and start speaking your way to a more efficient practice. More than 200,000 physicians worldwide across all medical specialties have already adopted Dragon Medical technology, because it works.
Dragon Medical Practice Edition 2 gives you the power to create more comprehensive patient notes in a fraction of the time without the frustration that comes with pointing and clicking in the EHR. You can start saving time and money today with a speech-enabled EHR and workflow.
Is your practice focused on a complex medical specialty?
All the more reason to let Dragon Medical Practice Edition 2 do the work for you.
Dragon Medical software understands even the most complex terminology used in a broad range of medical specialties so you can speak in your own words to create comprehensive and accurate patient notes as well as a number of other clinical documents and correspondence.
Features
More than 99% accurate right out of the box

Over 90 medical specialty and subspecialty vocabularies

Customizable macros that automate repetitive mouse clicks

Hidden dialogue mode for streamlined navigation and searches while dictating
Benefits
More efficient workflow
Less time spent on paperwork
More time available for quality patient care
Better patient documentation
Higher reimbursement levels
Reduced transcription costs
Why Why Voice Solutions?
Voice Solutions was established in 1994 and was the result of a spin-off company from the Center for the Study of Language and Information (CSLI) at Stanford University in Palo Alto, California. For more than 16 years, Voice Solutions, Inc. has accumulated extensive industry experience as a Dragon Medical Certified Partner and is a leading supplier of speech recognition technology in the United States.
The expert staff at Voice Solutions not only provides knowledgeable support and thorough integration with its products; they also provide consultation, setup, training, and customization with each sale of Dragon Medical Practice Edition. Voice Solutions has a proven implementation process that lends itself to trouble-free integration. Voice Solutions is committed to working shoulder to shoulder with clinical software support and project management staff to ensure successful deployment and integration of products and software. Voice Solutions is experienced with EMR/EHR applications that can save time and money.
Purchase Dragon Medical Practice Edition 2 and receive FREE installation. Call (877) 653-7007 today!